This blog is often full of new evidence from high quality trials and literature reviews as well as clinical pearls to help enable us to choose wisely with our sickest patients, usually those in the resus bay.
That being said, for most emergency physicians, perhaps up to a third of their clinical time, may be spent sifting through Fast Track patients.
But who says Fast Track can't have high stakes decisions? If so why can't we use the literature to help us?
Enter Oquist et al and their wonderful review of the literature using humane animal experimentation to answer every man's wincing nightmare.
Let's illustrate with a case we had recently
A 42 year old man presented to our ED, pale, sweaty, tachycardic and diaphoretic. He even reported a sense of 'impending doom'.
Initial eye rolling at another cardiac chest pain in fast track ceased quickly, when we read his triage and saw he was clutching his groin, not his chest.
He had joined an elite club of men with zipper related injuries, which in America afflicts over 1760 males per  year.( Bagga et al 2013).
According to the largest epidemiological study on this topic,  it is mainly a paediatric condition accounting for two thirds of all injuries. The other main risk factor they quote is going 'commando'.
Zippers themselves were responsible for 21% of all penile injuries. Although far, far fewer, there were 5 cases of female genital entrapment caused by zippers in the 10 year study.
Back to our case…..
Closer examination revealed the obvious cause of his tachycardia and diaphoresis, the ventral aspect of his penis was entrapped in a total of 3 rungs of his zipper; luckily  Oquist et al provided the answer.
They compared 5 common techniques using an animal model of chicken skin inside a zipper and then tested Emergency Physicians against medical students to see who performed best. Failure to release the skin within 5 minutes and a full thickness tear of the skin were defined as failure.
 Table 1 and 2
OQUIST, M., C., 2017. Comparative analysis of five methods of emergency zipper release by experienced versus novice clinicians. The American Journal of Emergency Medicine, 35(5), pp 783-784.
As you can see in the table above, manipulation with mineral oil at 94% success and 24% skin damage was the best technique followed by cutting the zipper at 77% success and 18% skin damage.
The other techniques vary from the ineffective to the barbaric (all techniques are described below)
For our gentleman initial manipulation with oil failed so we cut his zipper with trauma shears, leaving him with only a small abrasion from the zipper for residual damage to the great relief of us and the patient.
Now just for completeness Bagga et al did highlight the risk of penile cellulitis, especially in delayed presentations. So we counseled the patient to be vigilant, not just next time he zipped up but also for signs of infection.
The Techniques Explained:
The presentation of patients with zipper injuries, although trivial sounding, can be quite distressing to the patient especially if a child.
The key is to understand in which part of the zipper, the entrapment has occurred.
The skin will be trapped in one of two places:
Between the teeth
In the endplate
1. Cut the endplate
This can be very difficult to apply and required quite a lot of force. It may however be the best of a bad bunch when the skin is trapped in the sliding mechanism.
2. Rotating Screwdriver
A flathead screwdriver is placed under the faceplate and rotate it. This isn't a favourite technique as it can lead to injury.
3. Mineral Oil
This basically works as a lubricant. washing liquid will work in the same way

4. Lateral Compression
I don't like this technique at all, as it can lead to a high level of injury being inflicted.

5. Cut Zipper-Pull Teeth Apart
This is the procedure of choice if the skin is caught in the zipper teeth. If possible cut above and below the section and the zipper should just open.
What technique do you use? Are there others?
References
OQUIST, M., BUCK, L., KEEGAN, M., OUELLETTE, L., EMERY, M. and BUSH, C., 2017. Comparative analysis of five methods of emergency zipper release by experienced versus novice clinicians. The American Journal of Emergency Medicine, 35(5), pp. 783-784.
Bagga HS, Tasian GE, McGeady J, et al. Zip-related genital injury. BJU international. 2013;112(2):E191-E194. doi:10.1111/bju.12009.
Dr Robert Ley Greaves
Registrar in Emergency Medicine
EMCORE Scholarship Winner 2018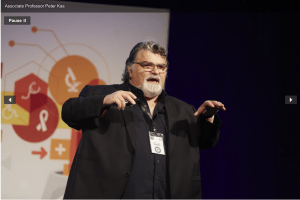 Associate Professor Peter Kas
Creator Resus.com.au and EMCORE.com.au