Fellowship Exam
The Emergency Fellowship Exam, is the last major hurdle to getting those 5 letters next to your name
Fellowship Exam
The new exam format, more than ever, relies on knowledge. Of course, there is some technique involved, but not like before.
The technique now, is in what and how to study for this exam. In a perfect world, you would study everything in the curriculum and be an expert in it. However the exam is not the perfect world.
The skill now, is to understand how each question type relates to the curriculum and lends itself to being asked in a specific way. This is the skill. It's knowing the high yield areas of study! It's about working clever!
This course reviews the Adult and Paediatric curriculum over 12 MONTHS, with videos and articles and synopses and over one thousand combined MCQ's, EMQ's and SAQ's, roadblock exams and STRATEGY, as well as Multiple Live, Interactive Webinars, where you know there is someone there guiding you.
Marked Roadblock SAQ Exams
Thousands of MCQS, SAQS & EMQS
A Facebook Community to Discuss Stuff
Live Webinars You can Join In
Emergency Physicians experienced in exam preparation take you through your exam preparation.
How to pass The Fellowship Exam
HEADS UP: The Written Fellowship Exam is yours to pass.
The key to passing is to have strategy and knowledge! I started teaching people the strategies for passing the exam over 15 years ago. You get all the knowledge you want, but if you don't have an approach to studying, if you don't have an approach to answering, then you don't have an approach. From years of working out what works to maximise performance and give outstanding results come the Written Fellowship Course, with videos and lectures and webinars and more MCQ's than you can do.
This course has an outstanding pass rate that I am very proud of. This isn't because I'm soooooo clever. It happens because you guys are! You know more than you think you know. When someone finally brings structure and strategy to you, you can't help but perform well.
OKAY Let's get on with the video. I recently put on my webinar on How to Pass the Fellowship Exam. A lot of you signed up but due to life, didn't get there. Here it is again. Enjoy.
PLUS please send this page link to a friend. Help them as well. I hope to see you at one of the courses or as a newly minted FACEM!
Below are some resources that may assist you.
Fellowship Resources
Introduction to the Fellowship Exam
Below you will find a set of resources that will help you pass the Fellowship Exam. There are videos to watch and ECG's and ABG's to interpret as well as images and X-rays to review. More are added regularly. Please share these with your colleagues.
These live webinars replace face to face days, because you asked for it! No more travelling, expenses and being away from home. Now we have a constant stream of live, interactive webinars that allow pure immersion from your own study.
All Webinars are recorded, so you can watch them as many times as you wish.
If you're sitting your Emergency Fellowship exams, or know someone who is, then this is for you!
The single greatest issue that delegates face, is they just get overwhelmed. They don't know where to start. They have no structure, no direction, nothing that says, we'll start here and finish there. They don't feel confident that if they do a set portion of work, that they will have the theory and the technique and what is needed to pass the exam.
Until Now!
This is a 6 month Virtual Course with Weekly VIDEO Lectures, NOTES, and Tests to do. MCQ's EMQ's and SAQ's.
With over 1500 new exam, specific questions in total, in our bank and growing, you will always have material to practice on.
Study Strategies for the Exam
MCQ and SAQ Exam dissection of answers
Own The ABG
Own The ECG
X-Ray Examination and discussion
RoadBlock Exam I: Review and Discussion
Administration
Psychiatry
Own The Investigations
RoadBlock Exam II: Review and Discussion
T is for Tox
Peter Kas's Matrix of the Exam
Q&A x2
Pre-Exam issues for discussion
The key to passing the Fellowship Exam
Try these questions
MCQs and SAQs to try
Subscribe For FREE Regular Updates In Your Inbox.
Get notified on all upcoming Conferences PLUS our Webcasts, Education Newsletters, & more!
Testimonials
"Love you guys; love the attitude, skill mix and mindset; recommending your course to all whom I think will 'get it' (since not all do…). So much so, I will pay half the course cost for a friend. Thanks so much
"Thanks for everything. Regardless of how I go, your course was bloody great and if I don't succeed this time, I'll succeed next time because of what you guys taught (not just content but mindset, methodology etc).
"I wanted to say that I thought the Fellowship Online Course was a fantastic and effective tool for exam preparation…Thank you so much for your input and assistance and helping me to pass at my first attempt.
"Thanks Peter and Luke. I'm very relieved. I passed the February written exam. I have already recommended your course to many friends and colleagues. It was a great to have structure and guidance for the 6 months of hard work and without the course I would have been far less motivated and very much less prepared in terms of answer writing technique.
"Thank you so much for your help, I passed the Written.
"A great course. It keeps you on track to succeed in the written.It cuts all the unnecessary information out and spoon-feeds you with what you really need to know. It was a fun way to learn and gives you plenty of practice!
"I have found the course particularly helpful in terms of a structured timetable to guide you through the high yield topics… The course keeps you on track… I found the ECG lectures especially helpful.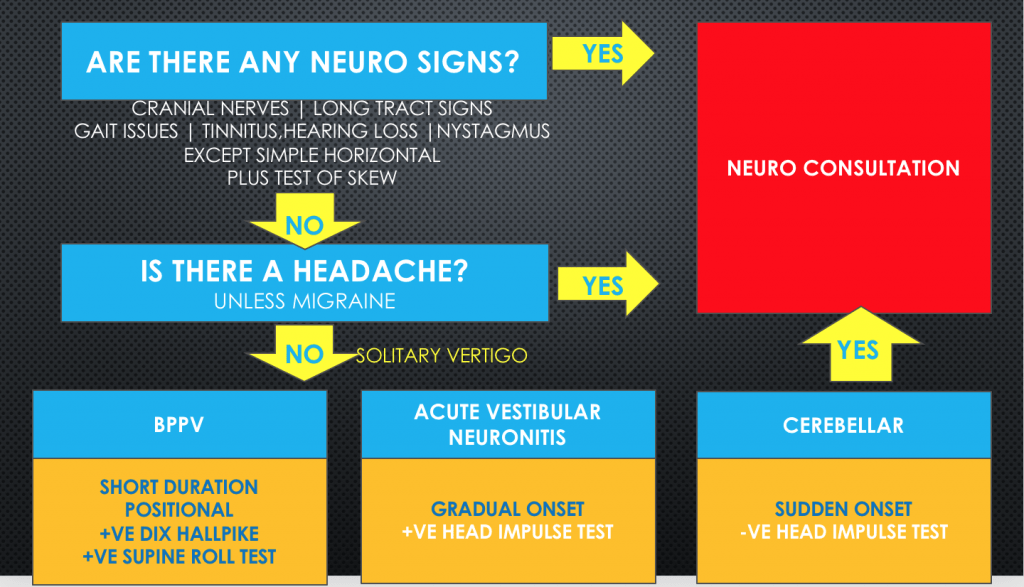 How to Diagnose the Patient with Vertigo in 5 steps
How to Diagnose the Patient with Vertigo in 5 steps This week it's all about…