The CASE
A 52 yo patient presents following a fall onto the right outstretched hand. There is severe right shoulder pain and deformity. An X-ray is performed and there is evidence of a posterior shoulder dislocation. The Xray is shown below (Note:this is of a different patient with a similar X-ray: source)
Reduction is attempted but is unsuccessful. Why was this so? What do we need to do next?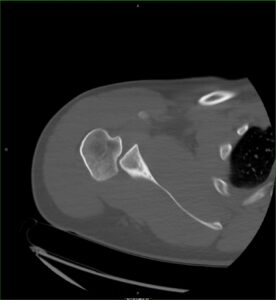 A CT was performed and one image shown. This was an impacted posterior dislocation, where the humeral head is impacted against the posterior glenoid.
Posterior Shoulder Dislocations
Posterior dislocations are not common, occurring in less than 4% of shoulder dislocations. They occur in trauma and epilepsy(where they may be bilateral) and can be missed. The approach to reduction is a simple traction/countertraction technique, however if there is impaction, humeral head manipulation may also be required.
It is crucial to have adequate sedation and patient relaxation, otherwise reduction can be more difficult than the more common anterior dislocations.
Contraindications to reduction in ED
Fractures of the humeral head and proximity, including

Tuberosity fracture,
Hill-Sachs deformity,
Humeral head/neck fractures and
Bankart fractures.

Cases where it may be difficult to adequately sedate the patient and inta-articular anaesthetic cannot be used.
Complications of Reduction
If a dislocation is not already impacted, this may occur.
Fractures already present, may be displaced further
A new fracture may occur.
Neurological injury may occur, but is not as common in posterior dislocations as the nerves are located more anteriorly.
Disposition
Given the already unsuccessful attempt in this case and the posterior impaction, the orthopaedic team took the patient to the operating room.
Conclusion
Posterior dislocations are not common.
They may be more difficult to reduce.
Orthopaedic opinion should be sought.
Reduction should occur as early as possible.
Reduction should not be attempted in the emergency department, when fractures are present.
Significant relaxation is needed for reduction.
Given that a posterior impaction may occur and can't be seen on x-ray, an approach to reduction should include traction/distraction with mobilisation of the humeral head.