A normal X-ray does not necessarily exclude a fracture. It is simply a test used, with our pre-test probability to help us make a decision, in regards to a fracture being present or not. This is the way to not miss an occult fracture.
In the last few weeks we are seeing a lot of patients referred by their GP for an X-ray, but they cannot review the patient, so they come to the ED straight from radiology. The triage notes we see are usually 'For x-ray review'. Easy just look at the x-ray and if it looks normal, the patient is fine. If it's already been reported as normal, even better, get them out. This is the recipe for a miss.
This is where we need to STOP. The x-ray is really done in association with our pre-test probability. We see the patient first and then look at the x-ray. If we take a history and examine the patient and the X-ray looks normal, but our pre-test probability of a fracture is high, then it's a fracture, regardless of what the X-ray shows.
Think of it in this way:
If a wrist X-ray is normal but there is pain in the anatomical snuffbox, we still treat it as a scaphoid fracture.
When a patient with a very good story of ischaemic heart disease presents and the ECG is normal, we still treat it as ischaemic heart disease.
A normal chest X-ray in a patient with productive cough, fever and basal crepitations on auscultation, doesn't mean that there isn't a chest infection. It may be that the X-ray lags behind the clinical picture.
The point is that out HISTORY and CLINICAL Examination is still the key.
The rate of occult fractures is actually quite high. In children it can be as high as 25%(1). In a retrospective study of paediatric fractures(2), it was found that occult distal epiphyseal tibia and fibular fractures, occurred at a high rate.
Typical Examples of Occult Fractures
Scaphoid Fractures
Radial Head fractures
Supracondylar Fractures
Distal Radial Fractures
Neck of Femur Fractures
Distal Tibia and fibular Fractures.
Your pre-test probability is very important. If the bone strength of the patient(usually related to age) and the force of impact concern you, together with significantly examination findings, there may be a fracture, even if the x-ray is normal.
Cases
Case 1
A 13 yo presents with an ankle injury secondary to external rotation. There is pain in the distal tibia. Here is the X-ray. What do you think?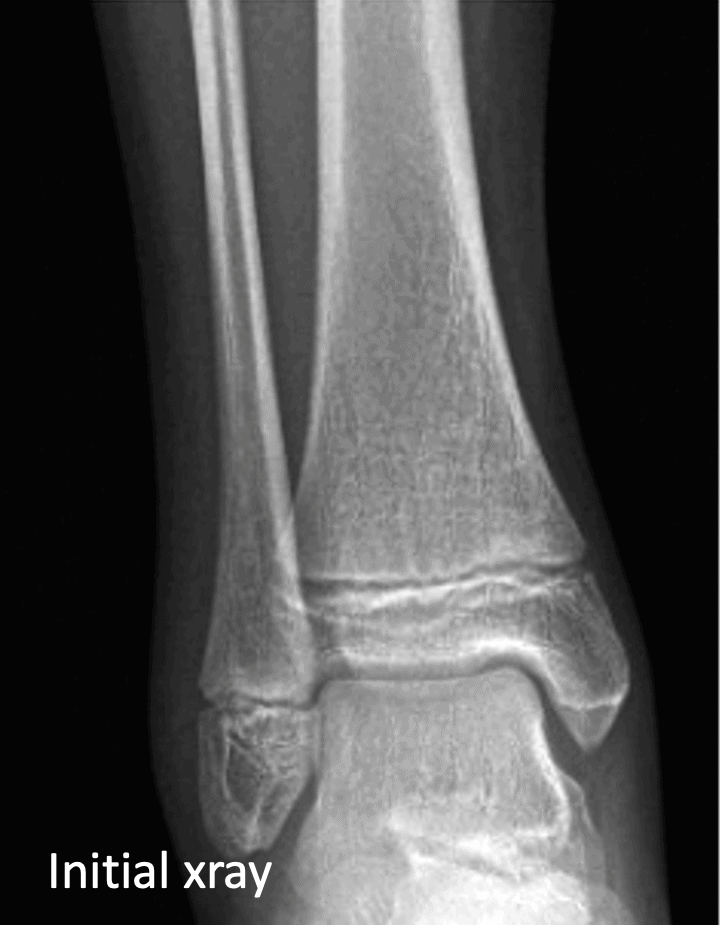 The X-ray looked normal and all X-rays were reported as normal. Below is the X-ray taken 3 weeks later. The periosteal reaction in the lateral distal fibula shows the fracture.
Case 2
A 69 yo presents following a fall onto outstretched hand and has significant distal radius pain, but no anatomical snuffbox pain. The X-ray is shown:
The X-rays were reported as normal. The patient had continued pain and was treated with immobilisation. At 4 weeks the patient had repeat X-rays and the sclerosis across the distal radius shows the fracture.
Conclusion
See the patient and trust your pre-test probability. If it's high for a significant injury ie a fracture, treat the patient in this way, even if the X-ray is normal.
We can proceed to more sensitive imaging such as CT or MRI, however sometimes a repeat X-ray may be enough.
The problem that we are faced with in the emergency department, is that it's difficult to sometimes refer these patients to fracture clinic for followup, when no fracture has been identified. However the number of these types of patients are small.
References
Najaf-Zadeh A, et al. Prevalence and clinical significance of occult fractures in children with radiograph-negative acute ankle injury. A meta-analysis. Acta Orthop. (2014) 85:518–24.
Ma Q, et al. Prevalence and Clinical Significance of Occult Fractures in Extremities in Children. Front Pediatr 4 August 2020